Solar Family Reunion in Paonia, Colorado
Aug 30, 2019 2:00 PM-2:00 PM | SEI Campus in Paonia, CO
Join SEI as we host the Solar Family Reunion in Paonia, Colorado! Whether you're a pioneer or new to the industry, you are invited to this special gathering of the solar family.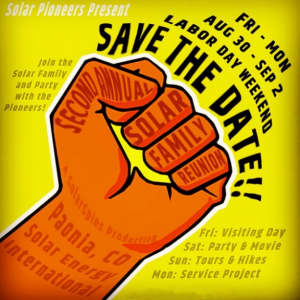 This multi-day event, which is held over Labor Day Weekend, will include time for catching up with old and new solar friends, a screening of Solar Roots: The Pioneers of PV, live music, Friday dinner and Saturday lunch, all the festivities at the SEI campus, optional hikes and tours of the local farms and wineries, and an optional service project on Monday.
No matter if you have been around since the earliest of days of solar, you are new to the industry, or thinking about jumping on the solar train– YOU NEED TO BE HERE! Registration Details found below.
Registration Details
Schedule of events and travel details below.
Early Bird Pricing through July 1.
Friday, August 30, 2019
Friday will the day of checking in at SEI, getting settled, and hanging out with new and old solar friends. We'll have an informal dinner together at SEI's campus. Folks can choose to spend the evening either hanging out at SEI's beautiful campus or exploring the Paonia nightlife.
2pm – 8pm: Registration and Camping Open at SEI
6pm – 8pm: Dinner at SEI (included in registration)
11pm – 7am Quiet Hours at SEI for campers
Saturday, August 31, 2019
We live hectic lives and Saturday is a day designed to be the opposite of this where you have no obligations and nowhere to be but the present moment of being with your solar people, eating good food, and enjoy a (hopefully) glorious late summer day in Western Colorado.  The SEI campus is the hub for Saturday, though you may decide to go adventure.
Breakfast: on your own, though of course we'll give you recommendations of where to get amazing locally grown breakfasts, the best coffee, bagels and pastries, and the hole-in-the-wall eateries.
Noon- 2pm: Lunch at SEI (included in registration)
4:20 – 6:20pm Ed Eaton is hosting a special gathering at his shop with solar cooked snacks and merriment.
Dinner on own. Whether you're into locally grown foods, pizza and beers, a brew pub, Mexican or Mexican fusion, or high end, we'll point you in the right direction.
7:30 – 9:30pm Solar Roots: The Pioneers of PV screening at Paradise of Paonia theater. This intimate theater can seat up to 150 and is the perfect location to watch this film.
11pm – 7am Quiet Hours at SEI for campers
Sunday, September 1, 2019
Sunday…you're settling into relaxation and just being with your solar friends. Maybe you've even stopped looking at your phone! Sunday is a perfect day for exploring local wineries, farms, or hiking, or just basking in the beauty that surrounds SEI's campus with some of your favorite solar people.
Breakfast, lunch, and dinner are on your own, though it's Paonia so there will be solar people no matter where you go!
We'll have suggestions for tours for you to carpool to, including~
Wineries that will make you feel like you're in Napa, including several PV-powered
Hikes
Farms~ This weekend is a local Art and Ag Tour.
4pm– sundown: Clinton Hangar Band (sponsored by Empowered Energy Systems, our local PV installation company). Come join easy-listening, Grateful-style music at the SEI campus. Potluck at SEI!
11pm – 7am Quiet Hours at SEI for campers
Monday, September 2, 2019
Some of you may have to leave as you return to your other life. Or you may decide to stick around and help with some local service projects that benefit the community, or help with the clean-up of the campus. We invite you to give back to Paonia before heading home.
10am – 2pm Optional Service Project
Travel Information:
Paonia is located on the Western Slope of the Rocky Mountains, at 5,645 ft. in elevation. Along with Hotchkiss and Crawford, Paonia is one of the three small towns that make up the North Fork Valley. The North Fork of the Gunnison River flows through Paonia and the valley. On both sides of the valley are higher mesas offering panoramic views of the West Elk Mountains, Ragged Mountains, Black Canyon of the Gunnison, and San Juan Mountains.
Airports:
Grand Junction Regional Airport: 1.5 hours to Paonia
Montrose Regional Airport:  60 minutes to Paonia
Denver International Airport: 4.5 hours to Paonia
They are no regular shuttles to Paonia. You must either rent a car or arrange for carpooling in advance. We encourage you to carpool.
Lodging:
For those people who are not registered to camp at SEI, there are a number of lodging options to chose from. BOOK EARLY! Labor Day Weekend is a busy time in Paonia and there's another festival happening. The best place to explore commercial lodging options is http://paoniachamber.com/,
Restaurants:
Paonia has some great restaurants to chose from! Friday dinner and Saturday lunch will be catered at SEI, and for the other meals, there are wonderful options! We'll provide on-site recommendations for you.
Weather:
Paonia is located in the high desert, which means average daytime highs of 90 degrees, and averages nighttime  lows of 55 degrees. It makes for great sleeping! There's always a chance of afternoon thunderstorms.
Facilities:
The hub for the Solar Family Reunion is Solar Energy International. This is by far the biggest group we've ever hosted on campus! We are working hard to make the event as smooth as possible, however, there are a few things to keep in mind:
SEI is an easy walk into town along Mathews Lane (one mile/25 minute walk). In town you'll find a grocery store, health food store, restaurants and little shops.
While we have a couple of public flush toilets, port-a-pots will become all of our friends.
If you're camping, we will have some rudimentary solar showers and hoses set up! This is a chance to revert to your dirty hippy roots.
Plan on bringing coolers and camp stoves if you plan to cook.
SEI is located in a rural neighborhood with epic views of Mt. Lamborn. We love our neighbors and thus quiet time from 11pm to 7am.
Parking will be in a field and access isn't the easiest. Ideally once you park, you move around but your car stays put. We encourage you to bring a bike or walk to town! And if you must drive, carpool!
Onsite potable water
Solar ovens available for use
There's very little shade at the campus so come prepared!
What to Bring:
Bicycles!!
Reusable water bottle, plate, cup, and silverware
High desert – bring sunscreen, a hat, layers
Your solar teeshirts
Hiking gear if you want to hike
Solar chargers and other "gear"
Guitars and other instruments for campfires, provided there's no fire ban.
Tent camping and RVs:
Tent Camping
Your car and tent, though nearby, will be in different areas.
Come self-contained! Tent, sleeping bag, sleeping pad!
RVs
NO GENERATORS
RVs up to 30' in length only. Anything bigger than that will have to stay at a nearby RV park.
No hookups
What not to bring:
While we love our 4-legged critters, absolutely NO dogs are allowed on site during the event.
Drugs that are illegal in Colorado
Interested in having your company sponsoring the Solar Family Reunion? Contact SEI's Development Director, Marla Korpar, at marla@solarenergy.org or 970-527-7657, ext. 208 to learn more!