SEI- FREE Online Ground-Mounted Solar Installation Safety Training
May 23, 2019 - | Online Webinar
FREE Online Ground-Mounted Solar Installation Safety Training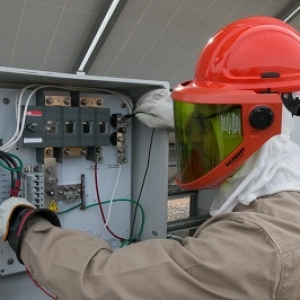 Solar Energy International is thrilled to have received a second year of funding through the Occupational Safety and Health Administration (OSHA) Susan Harwood Training Grant program in order to expand our PV safety curriculum to include large ground-mounted photovoltaic installation sites. Large ground-mounted PV installations present unique hazards requiring specialized safety training, including DC circuits operating at up to 1500 volts and thousands of amps, AC circuits up to 690 volts, and hazards associated with trenching and the use of heavy machinery.  This free 8-hr online course covers site hazards and control methods specific to large ground-mounted PV installations, produced under OSHA's Susan Harwood Training Grant.
This FREE online Ground-Mounted Solar Installation Safety Training will be available starting in May 2019.  You can register now using the link below to submit your student contact information, and then we will contact you 2 – 3 days after receiving your registration.  You will have 30 days from your registration to complete the training, or your free spot will be forfeited to another student.  This course will only be offered FREE to the first 1,500 eligible students.
Eligible students include:
Workers and employers covered under the OSH Act of 1970, SEC. 4.  Note, the OSH Act covers most private sector employers and their employees in the 50 states, the District of Columbia, Puerto Rico, and other U.S. territories. Coverage is provided either directly by the Federal OSHA or by an OSHA-approved state job safety and health plan.
Temporarily unemployed workers who are planning to reenter the workforce in a position covered by the OSH Act of 1970, SEC. 4 within the next 3 months
WHAT YOU WILL LEARN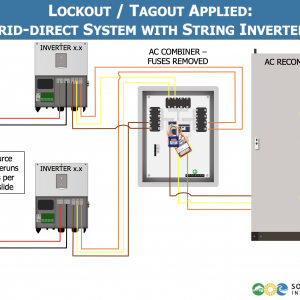 This training includes two lessons for a total of 8 contact training hours. Each lesson includes presentations, field videos, interactive exercises, and a quiz.
Lesson 1: Site and Mechanical Hazards- Identify common site and mechanical hazards that workers are exposed to when installing ground-mounted PV arrays, describe ways to mitigate hazards, determine safe working practices and PPE requirements.
Lesson 2: Electrical Hazards- Determine electrical hazards on large-scale PV job sites, identify shock and arc flash hazards and implement protective measures, define lockout/tagout methods and principles, examine installation, maintenance, and PV testing hazards.
NABCEP CE Hours: 8 NABCEP continuing education hours (JTA/RE)